HANS SISÁ - Realistic Expressionist
Born in 1948 in Linz, Austria – lives and works in Munich and Lower Austria

1968-1976 studied at the Mozarteum University in Salzburg, Master's Degree in Arts (Painting, Stage Design, Singing/Opera Performance)

International exhibitions since 1976, Freelance artist since 1990

Residencies in Italy, France, Switzerland, USA, Teheran, London, Russia, Sweden, China

Founder of the MALERFEST, Festival of Painting at Burg Reichenstein, Upper Austria 1997/2000/2003/2006/2009/2013

Participation in many benefit events including: "Against Forgetting", "Against Violence", "For Women in Afghanistan" (Zontaclub), "Humans for Humanity" with Karl Heinz Böhm, among others

Awards:
1985: "TZ ROSE", awarded by the Munich newspaper TZ for exceptional cultural performances
2008: "Golden needle of honor" , awarded by the village of Paudorf for exceptional merits for the cultural life
2009: "Silver Decoration" , awarded by the government of Lower Austria for exceptional merits

Exhibitions in Vienna, Graz, Innsbruck, Salzburg, Zurich, Milan, Berlin, Frankfurt, Stuttgart, Baden-Baden, Rome, Bern, Tallin, China among others. (more about the artist´s exhibitions)
Larger Cycles of Paintings:
"ENTARTET" ["Degenerate" Art] – "MÜHLVIERTLER HASENJAGD" ["Mühlviertel Rabbit Hunt"] was created between 1998 and 2000, to the theme of Dedication to All who have fallen victim to man's extremism. 35 works in oils, watercolours, drawings and sculptures.

"SILENTIUM" – Poetry and the Demonic 2000-2005, 21 works in oils.

"MAJOR FIGURES OF OPERA LITERATURE" – [Salome, Elektra, Lady Macbeth, Boris Godunov, Siegfried among others, Jedermann] Begun in 2003, 2004, 9 works and not yet completed. Jedermann created in 2004.

"TOTENTANZ" [Dance of Death] was created in 1992/93, a trilogy (oils on linen) which was presented for the first time at the Weinstadtmuseum-Dominikanerkirche in Krems. Main painting: 300 by 200 cm, Side paintings 230 by 125 cm each, various sketches and watercolours

"VERBRANNTE ERDE" [Burnt Earth] was created in 2003 and is made up of 8 works.

Publications:
2008:
The new monography on Hans Sisa
"DÄMONIE UND POESIE"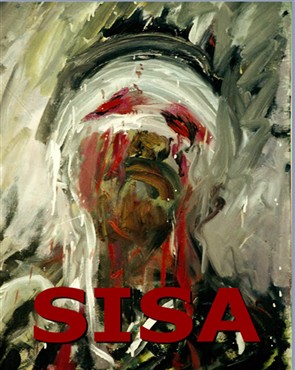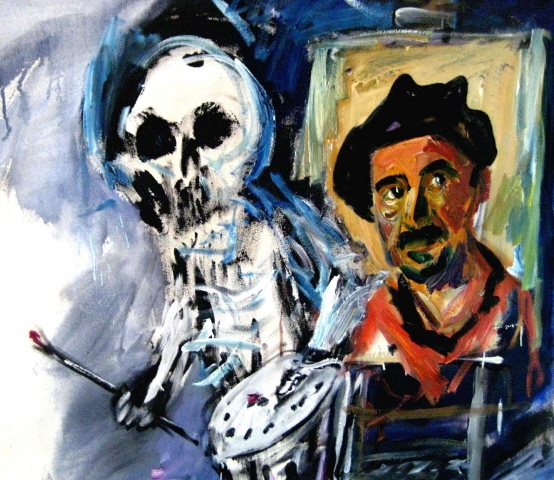 30 x 24 cm, Hardcover, 264 pages, 233 works
Texts: Dr. Josef Pühringer - Landeshauptmann von OÖ; Mag. Carl Aigner - Direktor Landesmuseum NÖ., Präsident des ICOM Austria; Dr. Helmut Orpel - Kunsthistoriker Deutschland; Hans Sisa;
Curator: Dr. Volkmar Käppl; Editor: Art Larson
Translations: Alide Kohlhaas - CamKohl Productions Canada, english, Daniela Prinz, italian, Gabriele Maria Ronge, french
Publisher: Bibliothek der Provinz, A 3970 Weitra, Großwolfgers 29
ISBN 978-3-85252-904-2
€ 38, SFR 65
----------
2007:
"KRAFT UND POESIE"
Expressive Malerei der Österreicher Hans SISA (36 Seiten), Eleonore HETTL, Wilhelm KOLLAR
Preface: Dr. Anton Gugg, Kulturamt Salzburg und Weltkunstverlag München
Curator: Dr. Volkmar Käppl, Wien
Editor: Art Larson
English translation: Alide Kohlhaas - CamKohl Productions Canada
Publisher: Bibliothek der Provinz, A 3970 Weitra, Großwolfgers 29
ISBN 978-3-85252-857-1
€ 24
----------
2009:
HANDBUCH DES DEUTSCHEN KUNSTHANDELS
ISBN 978-3-00-026601-0
----------
ATELIER I - ANSICHTEN II
Artwerkverlag Dortmund, www.artwerk-verlag.de
ISBN 978-3-938927-18-2